Roof Cleaning Sunshine Coast
Our Queensland households are regularly exposed to severe elements such as contamination, dirt, strong winds and thunderstorms. The condensation that lingers on the roof, creates a breeding area for undesired accumulations of mildew, fungus, mould, algae and lichen. Over time, fissures appear on the exterior, and holes and missing tiles increase because of the unsupervised growth. Zenith Roof Repairs has a professional roof cleaning Sunshine Coast service that can help avoid these problems.
Roofs are convenient parts of a home because they offer superior protection and can be built of various elements. However, one point for sure is that, like any other part of your house, regular cleansing is needed to have your premises resembling its very greatest.
Roof Maintenance is Better Than Repair
Allowing your roof to deteriorate will ultimately create the need for a full roof restoration. This can end up being a costly investment that you may experience as a homeowner. That's why at Zenith roof repairs, we have the motto "prevention is better than repair". Increase the lifespan of your home in just one day, every few years. Our roof cleaners Sunshine Coast will do a brilliant job. We guarantee you won't regret it.
Roof Cleaning Sunshine Coast
We specialise in many facets of re roofing Sunshine Coast.
Why You Should Never Do Pressure Cleaning Sunshine Coast!
Roofs types such as Concrete tiled, C-lock, Spanish styled and Elemental tiles ought to be never pressure washed. Pressure cleaning Sunshine Coast degrades your roof tiles by shattering the granules and mortar.
This unskillful and invasive process of roof cleaning doesn't even eliminate all of the mould and fungi growths. It may peel away decay quickly, but in the meanwhile, it will also leave it's tuber spores behind. This method will destroy the tile and the fungus and mildew will grow back. Usually roofs that have been pressure cleaned in Sunshine Coast, will require repeatedly cleaning in as short as one year, depending on the Queensland weather. 
The brute force of pressure cleaning Sunshine Coast produces around 4000psi of high water pressure booming against the covering. This relentless force is certain to harm and age your roof by eliminating the fine outer layer. What this does is make the surface more permeable guaranteeing more significant mould growth. It also decreases the roofs colour and makes potential water disaster in the future inside your roof cavity.  
Notwithstanding common opinion, pressure cleaning perpetually fails to destroy or kill the fungal spores. Once pressure washed, the exterior seems cleaner due to the external growth having been removed. Meanwhile, the growth now invades and clogs your gutters. With a closer examination, you will see all the fungal remains that reside on the surface, only supporting further re-growth to emerge within a year.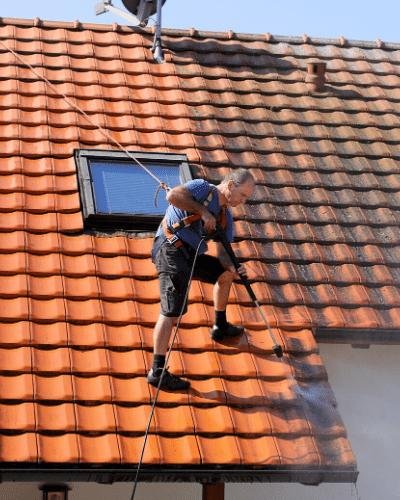 Roof Cleaning Sunshine Coast - Soft Washing
ROOF CLEANING SUNSHINE COAST – SOFT WASHING
Once the outer covering is treated with the moss and mould cleanser, it quickly begins to operate by eliminating the growth like moss, mould or lichen. When an outer covering has been soft-washed, it will proceed to self-clean for up to a year. This ensures your residence or workplace remains to look great. After a year, the roof will continue to be fresh for up to 5 years depending on where you are in the Sunshine Coast. Natural growth like dotted mould patches and mildew growth on metal roofs corrodes the guarding paint surface revealing the metal roof sheets to the elements. This causes excessive corrosion and shortens the lifespan of your roof. On tiled roofs, organic growth destroys mortar parts, colour covers and creates unwanted tile drift resulting in likely water damage.
ZENITH ROOF REPAIRS 4 STEP SOFT ROOF CLEANING SUNSHINE COAST PROCESS
Do a meticulous examination of roofing, cleanse the roof to chill for preparation.
Implement uniquely formulated roof washing compound at roughly 60PSI. Pause 30mins, then touch up tough spots.
Clean roof to remove surfactants
Utilise anti-algae re-growth formula
The anticipated lifetime of a soft roof clean in Sunshine Coast practicing this method will change depending on climate, character and location. However, it will be several years before any obvious re-growth appears. 
Colorbond Roof Cleaning Sunshine Coast
A
Colorbond
roof is normally much more straightforward to cleanse than a tiled or terracotta roof. Colorbond is tough, seldom leaks and time is the only element that will lift paint. We use an exterior detergent at the safest feasible pressure to clean a colorbond roof. To clean a colorbond roof is a much less costly task than tiles or terracotta. Zenith Roof Repairs utilise a method and treatment that eliminates all the grime and mildew to inhibit the re-growth of lichen and algae. This kills all spores and if these remain untreated, they will come back within a year. You will essentially be back where you began.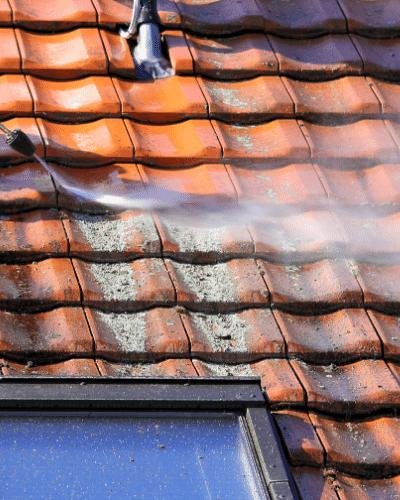 Why should you get roof cleaners Sunshine Coast for your home?
Consider some of the numerous advantages you can notice when you hire Zenith Roof Repairs:

Exceptional Safety History
Safety should be your number one concern whenever you're operating at heights. In your determination to eliminate the grime from your roof, you may slip, which can lead to disasters and severe injury. Not possessing the precise tools and accessories can point to a heightened chance of danger for you and your house. Alternatively, why not choose experienced professional roof cleaners Sunshine Coast to do the task for you?
Increases Your Property's Value and Look
Roof cleaning Sunshine Coast constantly adds to the value of any residence. Your property's outer look will be free of hideous marks and dirt smudges. The fresh new look adds to the overall perceived value of a home. A precise, expert roof clean is one of the greatest ways you can enhance the look of your house. Many realtors do think the aesthetic charm of a roof as a component of the overall pricing of a home.
Evade Unforeseen Expenses
House owners will discover that they conserve more cash when choosing professional roof cleaners Sunshine Coast. Therefore, compared to simply allowing their roof to decay from the harsh Queensland elements. The prices for cleaning manifest themselves in the end. You save on costly roof examinations, roof replacements and roof repairs. Routine cleansing with Zenith Roof Repairs ensures your roof will look great and prevents it from slipping into decay.
Ultimate Care For Your Roof
Your house may gather damage and spots that will make the entire roof construction to be jeopardized. A broken roof frequently leads to spoiled interiors because the holes can continue to the walls. This allows the moisture to enter the interiors of your house. Don't forget that a roof is one of the essential parts of your residence.
Money well spent.
Zenith Roof Repairs gives the most beneficial roof cleaning at a really affordable price. Our roof cleaning technicians are punctual, courteous and professional. They have many decades of roof cleaning knowledge. What sets us apart from the rest is that we pay particular attention to detail. We will not leave until your roof is back to a stunning condition. Our cleaning gear is the most superior in the roof cleaning industry. Our techniques have demonstrated to be fast, effective and competent. We can produce a written quote within seconds and have the most reliable service in Sunshine Coast completed in record time.
Zenith Roof Repairs operate on the Sunshine Coast and surrounds.
Sunshine Coast | Baringa | Noosa | Palmview | Glenview | Maleny | Montville | Glasshouse Mountains | Bribie Island | Gympie | Maroochydore | Caloundra | Nambour and other areas on request
Fill out the form below and we will be in touch with you soon.