Roof Painting Sunshine Coast
There's no doubting, that many Sunshine Coast home-owners pay hardly any consideration to the roof of their home. Because, only a handful of us with a sharp focus for detail will see the actual state of a houses roof. Most of the time, you'll only see imperfections easily when up close. Often, its only when you decide to climb up on the roof. For example, to repair a small leak. Roof painting Sunshine Coast is not something that is done only when you notice faded paint or marks.
Many Sunshine Coast residents may turn a blind eye to their roof's appearance. However, every property owner should understand that the roof of the house in one of the most important parts of a house. Once the house is over 10 years old, it should be checked regularly to avoid serious damage and prevent huge costs later.
Inspecting your roof frequently can increase the longevity of your home. The roof constitutes the first line of protection against weather such as cyclones, sweltering sun and Queensland storms. Therefore, regular roof painting Sunshine Coast is one of the most obvious ways to maintain the state of your roof. It's also the most affordable opposed to other options such as galvanising or a full structural replacement.

Roof Painters Sunshine Coast
We specialise in many facets of roof painting Sunshine Coast.
Roof Repairs Sunshine Coast highlights some of the generally overlooked advantages of utilising a professional roof painter.
Prolongs the Life of Your Roof
Frequently applying a protective coating on your roof through regular repainting inhibits water from coming into direct contact with the roofing material. Water is known to be amongst the most destructive and corrosive natural elements a home-owner has to contend with. Therefore, it is worth spending a significant effort in putting this at bay.
Avoids Recurred Rusting and Corrosion
Contrary to what most Sunshine Coast residents believe, corrosion does more destruction to your steel surfaces than only diminishing its look. For example, corrosion is a kind of oxidation which has the ability to chew through the roofing construction and decreasing its mechanical integrity. Which, of course, reveals why severely corroded roofs seldom hold up for more than a few years. Secondly, with corrosion comes various leakages, cracks and fissures which only assist in the passage of water; Especially during a torrential downpour. In drastic cases, this water may work its way to the roof cavity or metal below and reduce its strength as well. Even worse, it may also come into contact with some of the most vulnerable parts of the house. These could be electrical cables, insulation and the wood panelling. For the latter, a termite infestation can usually quickly follow.
Roof Painting Sunshine Coast Eliminates Stains and Increases your Homes Resale Price
Possible purchasers will constantly examine a households aesthetic value. That is why you will have a more difficult time selling an unsightly property, even though it may be in a nice part of the coast. As stated earlier, there is nothing that compares to a fresh coat of roofing paint. The shine, appeal and boldness of a newly painted roof will bring crowds of potential buyers to your doorstep if you're considering selling.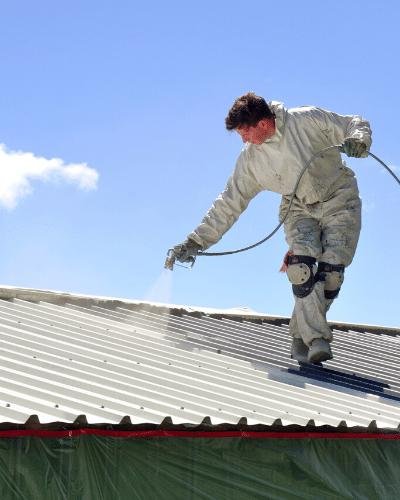 Premium Roof Coatings Sunshine Coast
Dulux AcraTex Roof Membrane Systems
Dulux Acratex membrane is a 100% acrylic coating for coating roof tiles and also metal roofs. It is recommended for both domestic and commercial roofing purposes. Dulux's innovative recipe renders a better gloss finish and less chalking, so the roof shades stay more vibrant and have a shine that is more prolonged!
The membrane is elastic and hasa fissure bridging ability with anti-carbonisation characteristics (resists carbon dioxide). This results in superior roof strength and water protection with long-term outside stability. The systems are also desirable for the accumulation of drinking water from roof run-off. An outstanding choice for roof painting Sunshine Coast domestic and commercial properties.
For colour options, you can select from the variety of Dulux InfraCOOL® Technology colours or standard roof colour range.
View Dulux AcraTex® Roof Restoration and Protection Brochure
Contact us today! You can also book in a convenient time for us to come to your house and do a free estimate. Our service areas cover all suburbs on the Sunshine Coast.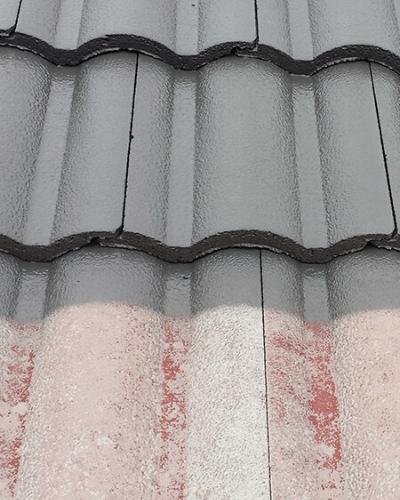 Roof Repairs Sunshine Coast operate on the Sunshine Coast and surrounds.
Sunshine Coast | Baringa | Noosa | Palmview | Glenview | Maleny | Montville | Glasshouse Mountains | Bribie Island | Gympie | Maroochydore | Caloundra | Nambour and other areas on request
Fill out the form below and we will be in touch with you soon.